For all you mad dogs who enjoy climbing quasi-winch hills without winches, here are a couple that might keep you entertained. They looked to be as steep or steeper than anything I've seen out in Tahoe or Plumas NF's (excluding vertical boulders out on Fordyce and some of the actual/designated winch hills out that way and at Bear Valley OHV). Being the ugly dog (not mad dog) that I am, I just looked at them and didn't attempt them. The bottom of both is the BHSTEEP2 waypoint that my mouse is pointing at here: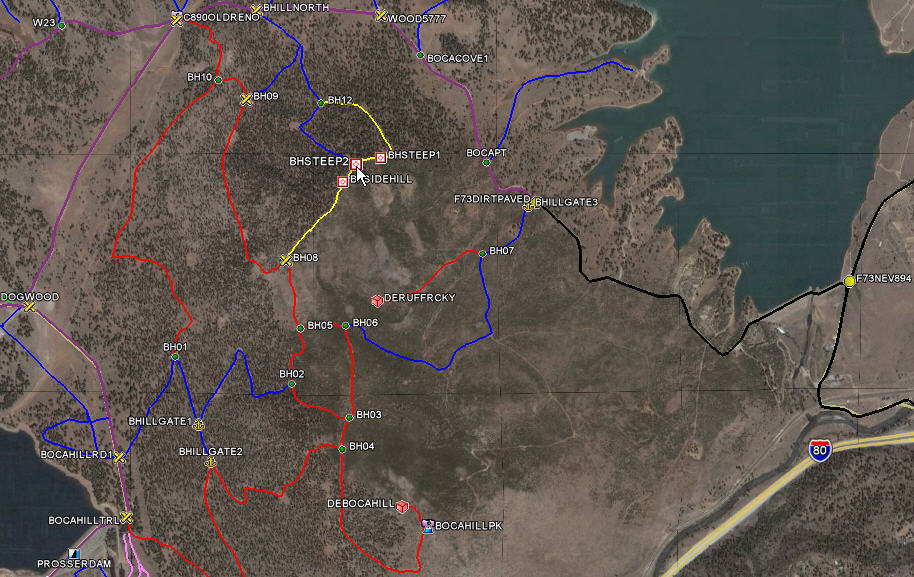 That's on the north slope of Boca Hill and this spot is easy to get to. The reservoir in the upper-right is Boca, and the black lines are the paved roads (you'd be on the one that goes off the right edge of the screenshot if you were heading to Boca Springs). So you could just drive across Boca Dam, unload at the end of the pavement, and ride the big/smooth dirt road (purple) to BHILLNORTH and go on up. These hills are also easy to get to from the Prosser Dam OHV trailhead: you take the big/smooth road around the west side of Boca Hill to the same spot.
For extra credit you can take the yellow trail from BH12 so as to go up the hill at BHSTEEP1 as well. That one didn't look as bad, probably doable even for me if I hadn't been out there alone. BHSTEEP2 is a 4-way trail intersection and there are 2 trails going up that are almost parallel. Those are the hills I'm talking about. One looks steeper than the other. I ASSume they join up shortly above what you can see from the bottom, and I ASSume you can continue on up to the easier trails on Boca Hill if you don't want to ride down them.
Here are the coordinates of those waypoints:
BHILLNORTH - 39.40359 N, 120.12793 W
BH12 - 39.39928 N, 120.12407 W
BHSTEEP1 - 39.39674 N, 120.12051 W
BHSTEEP2 - 39.39643 N, 120.12197 W