Does anyone one know of a legal way to cross Hwy 49 (on an ATV) between Downieville and Yuba Pass?
The obvious way per the maps would be at Yuba Pass. But we were out there yesterday and found that the road heading north from the pass is still closed to ATVs, as it was last year:
I have no idea why it is closed.
I saw a track on aerial photos that leaves the back of Yuba Pass Campground and heads west to connect with 49 down where FS 09 heads north. We hiked down it a ways and found it to be blocked by a large 3-4' diameter tree right about where my track ends in the map below. Even without the trees, not sure if it would be legal to ride, especially with the latest fire restrictions: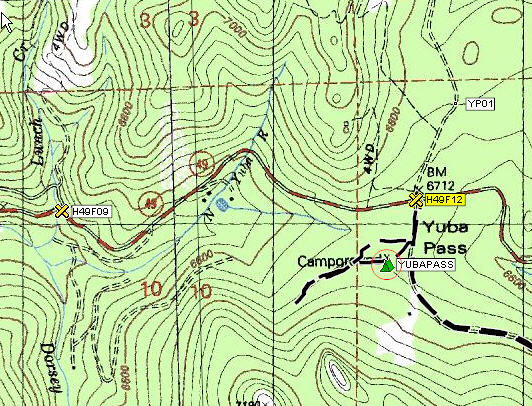 Crossing through Bassetts would involve riding Gold Lake Highway for a ways on the east side, so I doubt that is legal. I got lots of strange looks the last time I rode into Bassetts from the south for a milkshake and some gas.
And I'd think that law enforcement in Downieville would not take kindly to me riding through town from Galloway Road to the south. If Downieville were in Utah, no worries. But dang it, its in CA.
Any other ideas, other than to just take my chances on that 1.5-ish mile of stretch of Hwy 49 heading west from Yuba Pass to FS 09?